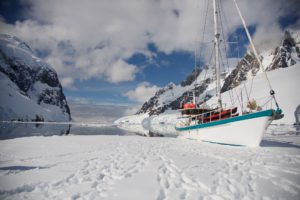 In the framework of the BELSPO-funded RECTO project, our Lab is leading the upcoming Belgica120 expedition.
The Belgica121 expedition aims at exploring the Gerlache strait in the Western Antarctic Peninsula, and to carry out a biodiversity census exercise focusing on intertidal and shallow areas. The expedition bears a strong historic link to the first scientific expedition to overwinter in Antarctica in 1897-99, recording the first intertidal biodiversity data, 121 years ago. This historic expedition was led by Adrien de Gerlache, onboard the RV Belgica.
The expedition will also be an opportunity to test-case the potential for low-impact, agile sampling platforms for Antarctic marine biodiversity research.
The expedition will take place in March 2019 onbard the Australis, a steel hulled, fully rigged motor sailor registered as a commercial – Category 0 (zero – Unrestricted) vessel. She carries a comprehensive range of safety, operational and navigational equipment. The Australis is operated by Ocean Expeditions.
You can read more about the expedition, its members, its vision and the underlying science on the Belgica121 website.