Events as Conferences of Parties (CoP) are as important as they are unknown for most people. Everyone has heard of them but only a few know what it is, how it works and what is clearly discussed EXCEPT of course people that work in the field.
On one hand, I knew how big the opportunity was because of my scientific background and the advice of all the scientists with whom I was talking and working. On the other hand, nor my friends or my family were aware of what it was all about, bringing a lot of skepticism.
At that point I understood the importance of sharing my experience, allowing non-scientific people to understand in what way this event was going to impact their future. Whether we want it or not, those decisions are committing all living beings on this planet: We are linked to every other specie as being a part of the ecosystem that we forget too often about.
Let's begin by a quick rundown of what the CoP19 was about. Each CoP (Conference of Parties) has a main topic discussed between the Parties (signatory countries). In this case, it was the 19th meeting of Parties regarding the protection of endangered species across the world. This protection has become a real dimension with the CITES international agreement that enables a regulation aspect to species' worldwide trade throughout its annexes. The scientific framework of the term "endangered species" is given by the IUCN which is collecting data from scientists around the world to define according to many features which specie must be classified as an endangered one and accordingly needs protection.
For two weeks from morning to evening, the main topic of our conversations was the protection of endangered species: what more could I ask for!
How did I end up attending the IUCN CoP19?
As part of my Master's degree, I had the great opportunity this summer to do a three-months internship in Sri Lanka within an NGO called Blue Resources Trust (https://www.blueresources.org/about).
They focus their work on marine conservation and devote particular efforts towards sharks and rays of South Asia. Within this framework, they are actively implicated in policy matter regarding the subject thus have participated in the sharks' proposals submitted at this CoP19. Knowing that I had a great interest in marine policy, they proposed that I would join them in attending the CoP19 as one of the NGO's members, giving me the possibility to be at the forefront of decision making.
No great surprise, as soon as I arrived there, I had a strong impostor syndrome hovering over my head. It was even stronger realizing that very few junior participants were attending (which I was quite disappointed about) and that I was surrounded by people that I someday aspire to become, not to mention the fact that I was totally lost in all this new world bringing a lot of information.
As the days passed, the syndrome went away and my admiration for those same people was growing bigger and bigger. Let me tell you why and that goes by explaining how things work during CoPs.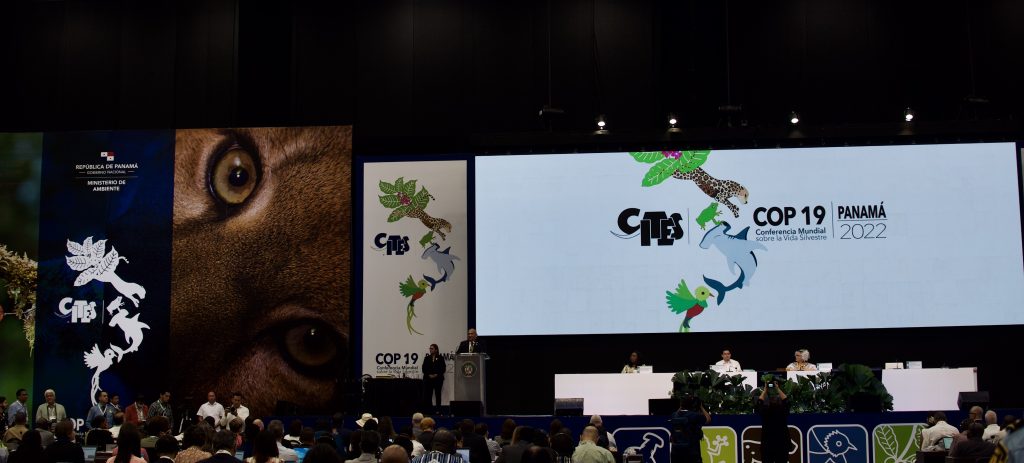 Every day for two weeks, I attended the so-called "Plenary" sessions during which many proposals are discussed. Those sessions are designed to help Parties make official statements about each proposal and debate before the official vote which also happens in Plenary. From an outsider's perspective, only politicians and delegates of signatory countries seemed to be involved in the matter. But of course, it is the tiny part of the iceberg that you can actually see.
It might seem obvious for some people, but most of politicians' statement are entirely written by NGO's. As a biology student, it felt great to see how much scientists are actually involved in decision-making. Not only are they in the field collecting samples and data, analysing them but also, they are involved in policy processes. They stand by politicians, giving them the data and the scientific context, explaining them why species need protection and how this protection can be implemented.
To give a concrete example, Blue Resources Trust along with several other NGO's worked over years to come up with the requiem of sharks at Cop19 and managed to make it pass by convincing politicians on the matter. A huge part of their work is represented by the implementation tools that they created to enable stakeholders to regulate shark trade in their countries (https://citessharks.org/resources).
Those implementation tools consist of rapid DNA identification kit, identification guides (based on fins or whole-body carcass) and Non-Detrimental Findings (NDF) software that enables officials to know if the trade of a specie is sustainable in their country. To summarize, they made everything possible. It might not be directly their voice making political statements, representing countries at CoPs and other important gatherings but their work behind the scenes is massive. In this particular case, it led to the protection of over 60 shark species!
I do think this last part is as important as the other ones of being a scientist. At the end, data are relevant only if we do positively change by making use of it and often, to change things you have to step into the policy world. This unavoidably involves a lobbying strategy. That is also something that I learnt there at the CoP19: lobby is not necessarily a bad thing. Scientists trying to convince politicians about environmental/species matter is also a way of lobbying.
Scientists are very often categorized as people working in a lab, working out data and writing specialized articles. As future scientists, it's important to know that we, students, can have an impact and a voice to change things later. For this to be understood by our young generation, we need to be more involved in this kind of political events. It connects us to the active world by meeting people working elsewhere than in our universities and therefore opens us other doors and opportunities for our career.
But most important thing: the sooner we are involved, the sooner we will be efficient in tackling future challenges.